At Vetsure, we value all our customers and Vetsure pets, and think of ourselves as one big family. We cherish our values and know that to be a happy and successful company, we need a happy and treasured team. All of our teams, from customer service and admin, to finance and sales are incredible, and all work together to ensure the smooth functioning of the business. However, there is one team today at Vetsure that we would particularly like to shout about here! We value our Claims team every day of the year but this week there is actually a set occasion to celebrate them! Mental health in the veterinary industry is something that should be spoken about frequently and is something that is certainly not taken lightly. So, for National Veterinary Technician week we would like to share some information with you about each of our charming Claims team members. They discuss the importance and power of talking to loved ones, to help raise awareness of mental health in the veterinary industry.
Katie – Claims Manager
Katie is our awesome Claims Manager. She is an experienced Veterinary Nurse with a passion for referral and critical care nursing. She has a Diploma in Animal Psychology, and an Extended Diploma in Equine Management.
Katie will forever have a passion for animal care and welfare and will always cherish a career within the veterinary industry. Unfortunately, her career within practice was sadly cut short after a car crash meaning she could no longer cope with the physical aspect of the job. Mentally this was a big struggle to adapt from practice-life to working in an office within insurance, however Vetsure Pet Insurance has given her a new love. Katie adores that she can give back to the veterinary community and policy holders by assisting them with their insurance. She loves being able to provide compassion and empathy for the stressful times they are going through, which she has experienced herself with her own animals.
In her spare time, Katie works through her mental health and wellbeing by training her competitive horse, Torin, and taking her Jack Russell, Princess Poppy, for walks in the local woods. Katie has recently rescued an injured Tortoise named Crush who she helps nurse back to health after he fractured his shell.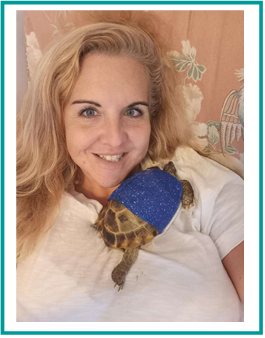 Amey – Senior Claims Assessor
Amey is our fantastic Senior Claims Assessor and is a qualified veterinary nurse. She absolutely adored working in practice, particularly with wildlife and especially hedgehogs. Amey believes that the veterinary world is so full of incredible characters who are making a world of difference which is a huge thing to be proud of.
During stressful times, Amey loves to go for walks with her dogs to help clear her mind. "Mental Health is a fragile thing that needs to be nurtured, even if it feels like it's impossible. Just taking a moment to share your troubles really helps. A problem shared is a problem halved."
Amey's beloved dogs are called Lady Zelda of Boop da Snoot and Lord Oliver Bonesworth the first! Amey trusts Vetsure with her claims and loves the ability to be able to change her excess or tailor the policy. Lady Zelda is a good girl however is very mischievous. She is very appreciative that Vetsure may cover her for the cheeky things she gets up to! Lord Oliver is much more reserved and has so far thankfully been no problem at all!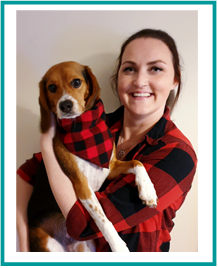 Emily – Claims Assessor
Emily is one of Vetsure's longest term Claims Assessor! She has worked with Vetsure for 6 years, but prior to this worked in a small animal run vet practice, getting all the puppy and kitten cuddles which she loved! Emily trained at the College of Animal Welfare, which included time in the classroom as well as hands on experience, throughout her training. She loves meeting people in the veterinary industry as everyone brings different knowledge and understanding about the animals which means she's always learning and discovering new things!
In her spare time Emily likes to explore new places. Fresh air and walks in the woods are things in particular that help to relax and calm her when times are tough. Mental health is so important to her so finding time to spend with friends and family is a big priority. A little tip she finds helpful is to find something you love doing that you will lift you up and make you feel happy. For her this is theatre, whether it's watching a musical or being a part of one.
Emily's fur baby is Sandy the Labradoodle. She is currently 3 months old and is already trying to rule the roost! Having cover with Vetsure gives her the peace of mind that if Sandy did do something over adventurous, she wouldn't need to worry about the fees or the claim process. Her favourite thing about Vetsure is that everyone within the team is friendly and approachable. On the phone, she knows that she will always be met with a friendly voice and someone who cares.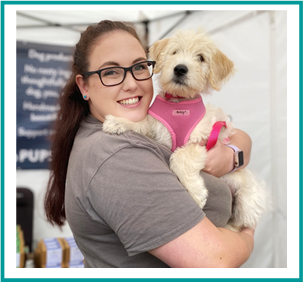 Kayleigh – Claims Assessor
The wonderful Kayleigh has been part of our team for almost a year now! She loves caring for pets and has a real passion for providing the best care possible for all her customers. She is proud to see how much the veterinary industry has grown and is inspired by how it has become more advanced with a wider range of treatment options available for pets.
In her spare time Kayleigh enjoys spending time with her family and friends, and cherishes going for walks with her 21-month-old little girl. "I try to get out every day even if it's just for a small walk, as it really makes a difference to how you feel."
Kayleigh has five pets at home! Three dogs who are called Lily, Ted and Daisy, and then two cats called Nala and Kiara. She adopted all them after working in practice.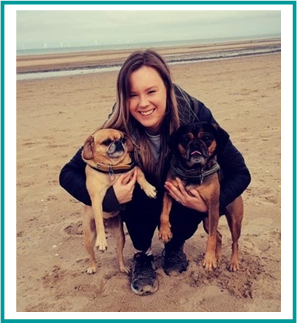 Kerry – Claims Administrator
Kerry took on a brand new position within Vetsure 4 months ago now! Previously, she was a head receptionist at a small veterinary practice in Cornwall. She absolutely loves working in the veterinary world, and loves being able to relate and empathise with all customers, knowing that they have the same passion for animals as she does.
In her spare time, she loves to read. During difficult times she finds spending time with family and friends really helps and finds taking a walk in fresh air clears her mind.
Kerry has four cats, Missy, Billy, Jinx and Geoff, and also a guinea pig called Betty. Her cats are equally as fond of Betty as she is and love to curl up in her cage. Kerry's ultimate dream is to have a small little farm with animals running around everywhere. "Having my pets insured helps me to feel confident that if anything was to happen to them, I would have the support of the insurance company giving me peace of mind."
Fiona – Claims Assessor
Fiona is one of our newest team members, just recently leaving her previous job within a veterinary practice. Her favourite thing about working in the veterinary industry is being there for her client's beautiful pets when they are most in need. "Watching them feel better with your treatment is the best feeling! I also love that every day is different with such a variety of cases seen."
In her spare time, she loves to go on adventures with her dog. That is exactly what is needed to clear her head after a busy day and believes that being outside in nature is so good for wellbeing.
She has a Sprocker Spaniel called Ronnie who she loves to pieces, however finds it slightly frustrating when all her socks and slippers end up in his toy basket!
Fiona is really enjoying her time here at Vetsure so far and loves her new aspect of working in the veterinary industry.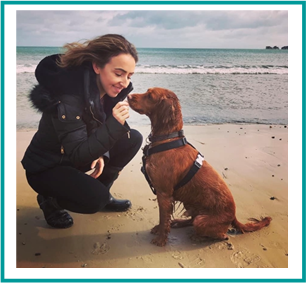 Jacqueline – Claims Assessor
Jacqueline is also one of our newest team members. She came from practice and loved how rewarding it was to look after all her customers' pets'. "If you have a really bad day, a hug from a furry friend never fails to help you feel better."
At home, Jacqueline has six pets! Each of their antics and individual characters always puts a big smile on her face. She has a 10-year old Staffordshire Bull Terrier called Rosco, two cats -an 18 month old Ragdoll named Willow, and 4 month old Evie, and finally three gorgeous guinea pigs named Blackadder, Baldrick and Magic. In her spare time, she loves to cuddle her pets and spend quality family time with her husband and son.
Despite only being here for a short amount of time, she "already feels like part of the Vetsure family. Everyone has been so welcoming and friendly. I really enjoy coming to work each day."
Did you know that we have also partnered with hundreds of vets and veterinary staff across the UK? Our dedicated sales team hand select, and regularly visit each of these practices to ensure their caring ethos aligns with ours. By using an Accredited Practice you'll benefit from a lower excess at the time of making a claim. Our fabulous Claims Team above will work closely with the vet to ensure they can settle your claim as quickly as possible while you spend your time making sure your pet is getting nursed back to health. Read more about our caring Vetsure Network here.
As a way to support the veterinary industry further, Vetsure as a whole team recently partook in the 10k Tough Mudder, and proudly raised over £1,000 for Vetlife. The charity provides support to the UK Veterinary community and their families who have health or financial concerns. Tragically the veterinary community continues to experience high levels of depression and suicide, so Vetlife work tirelessly to ensure that assistance and support is always available to them when needed.
If you work within the veterinary industry, Vetlife are there to support you. If you need advice, they are there for you 24 hours a day, 365 days a year. If you need help you can speak to the Vetlife helpline for free.